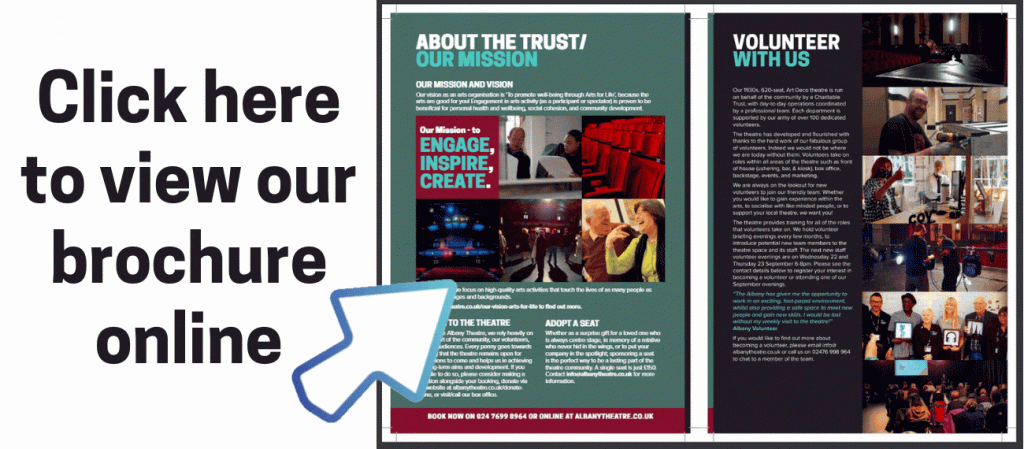 Click on the PDF  icon to download your copy
The leaves are beginning to fall, and the chilly weather is creeping in… Autumn has arrived! The Albany Theatre in Coventry is pleased to announce a brand-new season brimming with an eclectic array of events for all the family. Including big names such as Emily Atack, Clinton Baptiste, Brian Blessed, and Jasper Carrott, as well as two phenomenal in-house Christmas productions, plus music, dance, drama, and comedy galore!
After a challenging year for the arts industry, the Albany Theatre in Coventry is thrilled to be back in the swing of things and hosting live events for its audiences. With restrictions no longer enforced at the venue (although strongly encouraged), the team at the Albany have safely recreated their pre-lockdown atmosphere and are already enjoying welcoming audiences back through the doors.
The autumn/winter season opens with the explosive West End hit Be Bop A Lula, a tribute to everything Rock 'n' Roll, which will be sure to get all ages dancing in the aisles. On October the 1st, The Albany kicks off the new month with 'The Voice' star Karl Loxley with his Classical Voices tour.  
There's no shortage of fringe style drama in the theatre's studio, with 'Off West End' nominated play Lately produced by returning company Proforca Theatre. The Killer Question puts the audience in the driver's seat and lets them choose each character's path through the story, and new drama Vessel explores challenging themes and the fight for change in Ireland.
Emily Atack brings her brand new show 'Emily Atack Has Left the Group' to the main stage this October, she's all grown up and wondering what life is like as a mature, responsible grown up… if she finds one, she'll ask! As seen on Peter Kay's Phoenix Nights, the world-renowned clairvoyant, medium and psychic Clinton Baptiste works his magic for mesmerised audiences. Not for individuals with a nervous disposition, Brain Blessed shares 'an evening with', a night of anecdotes and tales. Coming up in March, Jasper Carott brings his tour 'Jasper Carrott's Stand Up and Rock' with The Bev Bevan Band and special guest Andy Bennett… need we say more!
Alongside a glittering array of music, dance, drama and comedy, The Albany is delighted to present their very first in-house community pantomime, Dick Whittingon. Serving up extravagant costumes, sparkling sets, live music, and more giggles than you can shake a stick with a spotted handkerchief at! But it's not just a panto that Albany Theatre Productions is presenting, OH NO IT ISN'T… A 22-date run of Charles Dicken's festive family favourite A Christmas Carol will run from 4th – 26th December and promises to transport audience members onto the snowy cobbles of Victorian Coventry to experience heart-warming merriment and spooky goings-on.
That's just a snippet of the exciting events that the Coventry theatre has to offer this autumn/winter. To find out more and book your tickets, click here or pop into the teatre and grab your what's on brochure.